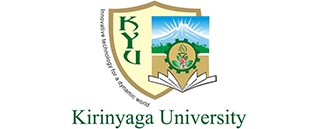 Internship Opportunities
Kirinyaga University invites applications from suitably qualified and experienced persons with excellent academic credentials to fill the internship opportunities as advertised. Click on the link below to download the advert.
Graduation Announcement 2018
Kirinyaga University wishes to inform all Graduands who qualified for conferment of various degrees and award of diplomas and certificates that the 2nd Graduation Ceremony will be held on Friday, 12th October 2018 at Kirinyaga University Campus grounds. Click on the link below to download the announcement for more details.
Graduation Gown hiring form 2018 Degree
September 2018 Advert - Re-advertisement Final
Kirinyaga University is government owned and established under the Universities Act No.42 of 2012.  At present, the University runs degree programmes across six faculties; Health Sciences, Hospitality and Textile Technology, Computing and Information Technology, Business and Economics, Pure and Applied Sciences, and Engineering and Built Environment. The University invites applications from suitably qualified and experienced persons with excellent academic credentials to fill the following positions in the Academic Division. Click below to download the advert.
DEPUTY VICE CHANCELLOR KIRINYAGA UNIVERSITY MAKES IT TO LIST OF FINALISTS FOR THE 2018 NEWCASTLE UNIVERSITY ALUMNI MEDAL AWARDS FOR PROFESSIONAL EXCELLENCE
The Office of the Vice Chancellor Kirinyaga University, is proud to announce that Prof. Charles Omwandho, the Deputy Vice Chancellor ASA, KyU has been nominated and selected as a finalist to the 2018 Newcastle University Alumni Medal Awards for Professional Excellence.
Prof. Omwandho who has made it to the prestigious list of only three persons from the whole world will be travelling to Australia on Monday September 10, 2018 to participate in the Awards Ceremony. 
The office of the vice chancellor and the entire KyU fraternity congratulate Prof. Omwandho for the sterling performance.
DR. SAMUEL MBURU WANJIKU (DEAN, SCHOOL OF HEALTH SCIENCES) GETS INVITATION TO THE INTERNATIONAL SUMMIT IN HUMAN GENETIC AND GENOMICS FROM AUGUST 27 TO SEPTEMBER 30, 2018 AT THE NATIONAL INSTITUTE OF HEALTH (NIH), BETHESDA, MARYLAND, USA
Kirinyaga University is delighted to announce that Dr. Samuel Mburu, Dean School of Health Sciences has been invited to attend and participate in the NIH – international Summit for Genomics and Genetics Research (ISGGR) from August 27 to September 30, 2018 at the National institute of Health (NIH), Bethesda, Maryland, United States of America.
The Summit is organized by the National Human Genome Research Institute (NHGRI), credited with the development of a reference sequence for the human genome.
This Summit is for healthcare professional from low to middle income countries who are interested in advancing genetics and genomics in research and medicine to resolve health challenges. KyU takes pride in the observation that not only will Dr. Mburu be representing Kirinyaga University but also Kenya as a country.
The office of the Vice Chancellor and that of the Deputy Vice Chancellor ASA congratulate on behalf of the entire KyU fraternity, Dr. Mburu on this great achievement and wish him well as he networks and consults with established researchers in the United States of America.
KyU Conference Book of Abstracts and Programme 2018
August 13, 2018 Postgraduate Scholarship Opportunities
The Office of DVC (ASA) informs CoDs, HoDs, staff and prospective postgraduate students that August 13, 2018 Scholarship Opportunities have been uploaded on the KyU website. You are all advised to visit the platform to download, peruse and respond appropriately.
https://www.kyu.ac.ke/index.php/2015-07-08-06-46-13/downloads/category/28-postgraduate-scholarship-opportunities